We have just released an update to our Analytics Copy/Paste Tool. It previously allowed you to copy/paste view settings and goals. However, it wasn't able to copy/paste view filters due to some limitations in the Google Analytics API. Now that these limitations are no more, we have updated the tool so that you can now copy/paste the filters along with everything else.
Here is what the new part of the interface looks like: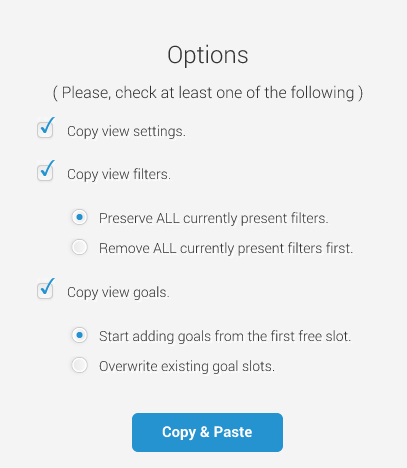 As you can see you can now select to copy/paste all filters of a profile to a new view or to an existing one. If you are copying to an existing view, you have two options:
– "preserve all currently present filters" – which means that all filters currently applied (attached) to that view will remain there. The filters from the view you copy from will be added on top. If there are overlapping filters, the tool will simply not copy them (as no action is needed).
– "remove all currently present filters first" will remove (or to be precise – detach) all filters from the view you copy to. It will then add the filters from the source view to the destination view.
You can now copy separately or in any combination: view settings, view filters and view goals with one click of a button. We hope you like this improvement.
About the author